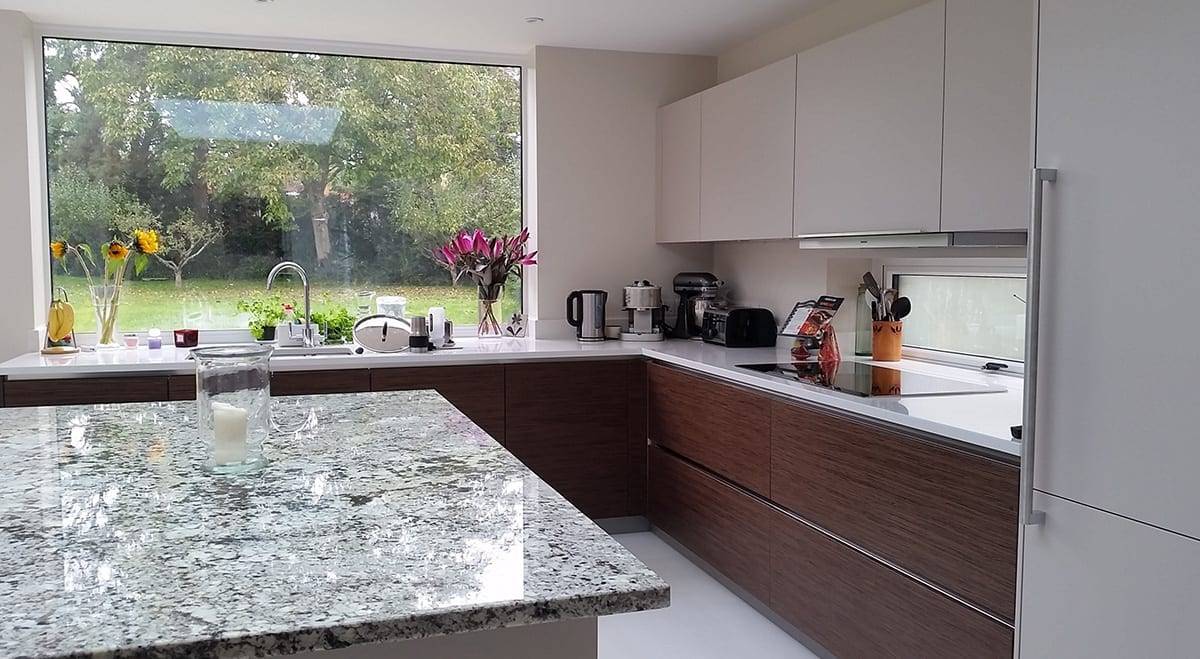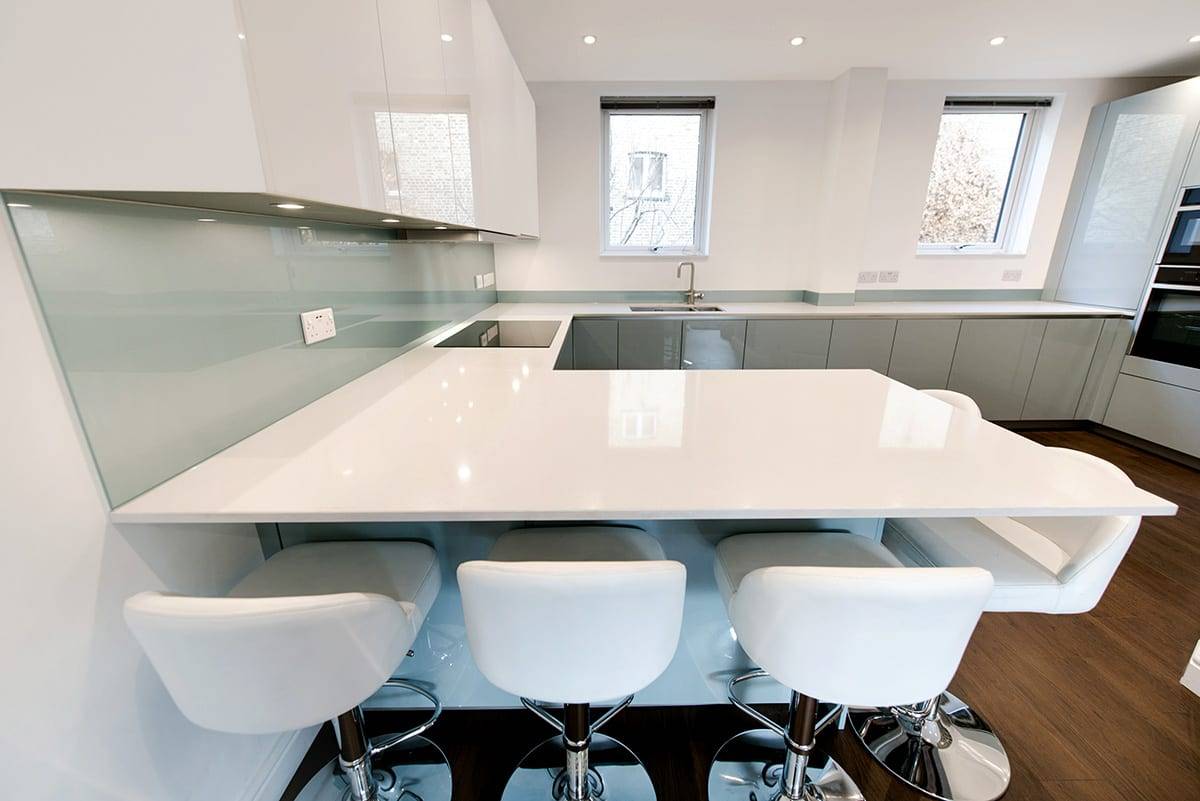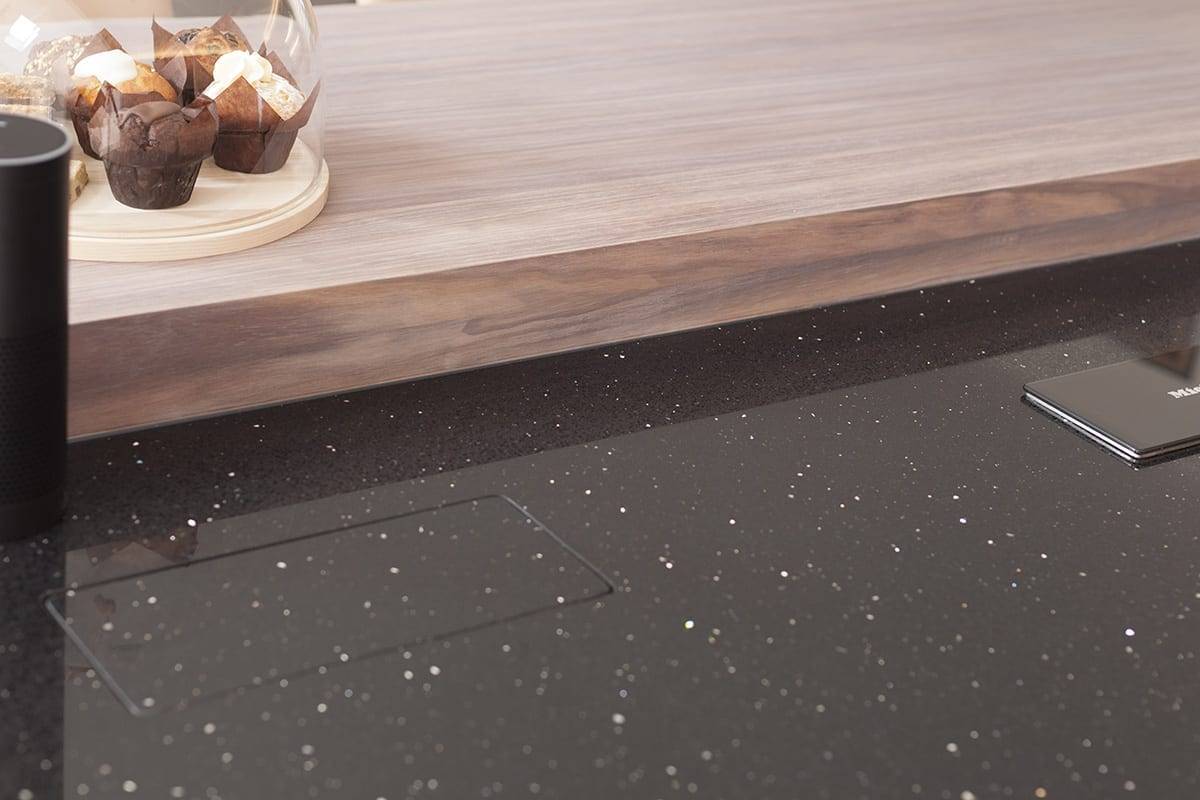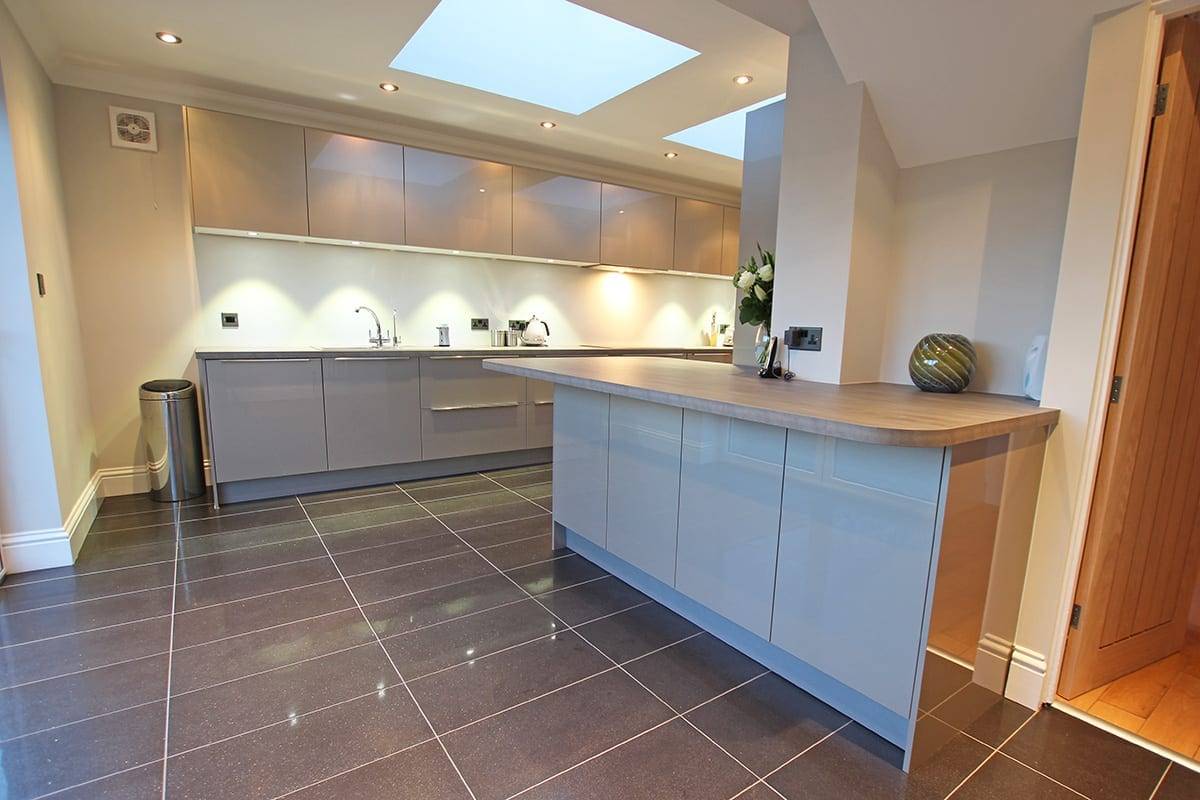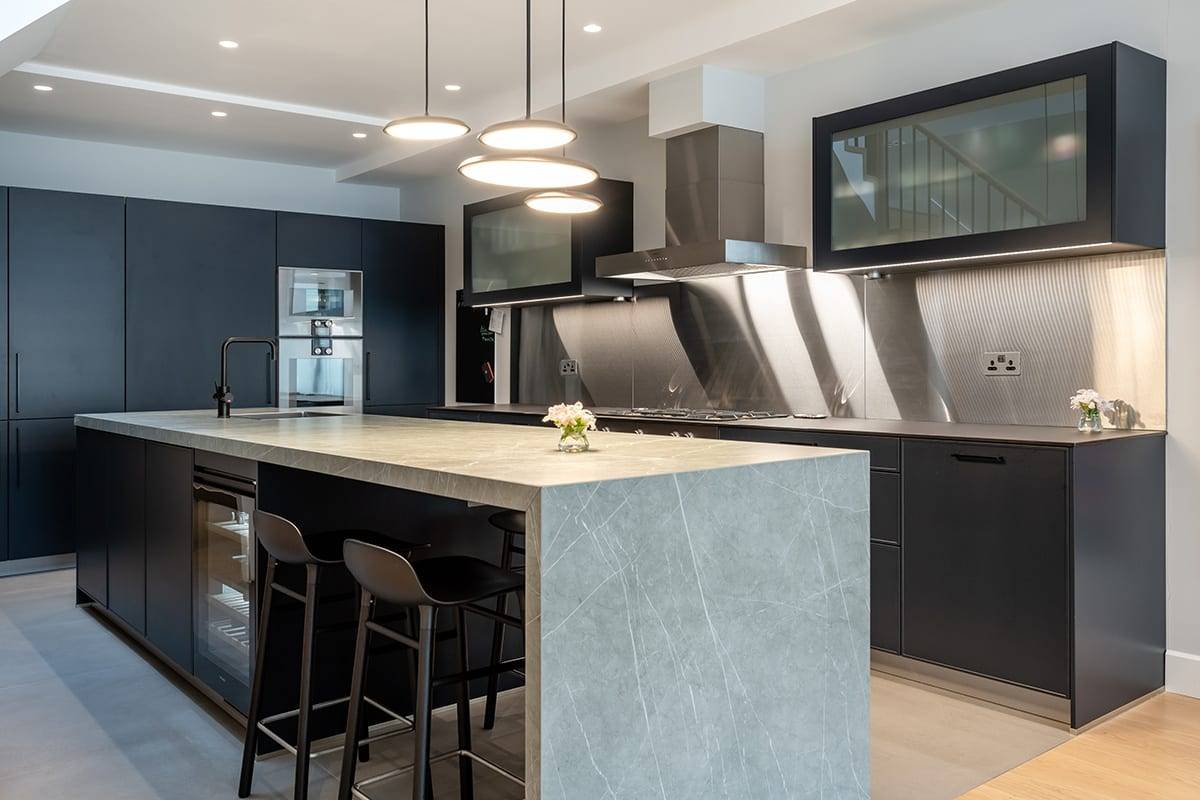 Luxury Laminate Worktop With Curves.
Dekton Vera With Stainless Steel.
Worksurfaces
Browsing our gallery you will see we design and supply a wide range of work surface materials including laminate, quartz, sintered stone, wood, Corian and stainless steel. Our designers have a lot of experience with these materials and can offer advice based on your specific requirements in terms of budget, aesthetics, practicalities, design requirement etc.
Quartz Worktops
An engineered stone, quartz worktops maintain the benefits of a man-made product, whilst effecting the beautiful look and patterns of natural stone. It is produced from a blend of approximately 95% ground natural quartz with 5% polymer resins, ensuring consistency of colour and structure throughout. The result is a strong material ideal for worktops because it is hygienic, easy to clean and non-porous…or in other words, stain-resistant! Quartz is also heat and scratch resistant, qualities which further enhance its durability. Another advantage is that quartz can be cut, shaped, polished and drilled to suit individual taste, and it is available in a selection of worktop thicknesses, and in lengths over 3m. This jumbo option is especially useful for achieving full kitchen worktop pieces with no visible worktop joins.
Granite Worktops
Marble and Granite represent the most luxurious of natural stones used for worktops. With a timeless look, both materials lend themselves extremely well for use in Country and Shaker kitchens, as well as within more contemporary styles. As they are a natural product, no two pieces of stone will ever be the same; this ensures a truly unique look for your kitchen.
Polished granite worktops have a shiny surface finish and are well-placed in traditional kitchen settings, or for a striking island worktop. Alternatively, honed granite has a non-shiny surface, which is frequently textured, and better suited for more contemporary kitchen designs.
Sintered Stone Worktops
Sintered stone is made by applying very high pressure and temperature to the base compounds to produce a completely unique material. Best known by their brand names such as Dekton, Neolith and Lapitech, these materials are extremely durable. They also feature very high heat resistance, scratch resistance and UV resistance.
Designers love them because of their extraordinary surface patterns that range from looking like natural marble, to incredible industrial finishes.
Discuss your project with one of our designers and we can guide you through the various options available to you.
Luxury Laminate Work Surfaces
Think you know laminate worktops? …Think again! Our modern luxury laminates make an enviable choice for many clients. The quality of modern laminates needs to be seen to be appreciated; from textured surfaces to intricate curves and even inset sinks, the ability to order worktops completely finished from the factory results in a modern, high quality finish that is still a much more affordable choice versus quartz or sintered/ natural stone.
Laminates are available in a wide range of colours and finishes and can be effectively used in modern, Shaker and traditional kitchen designs.
Other Types Of Work Surface
Zen Küchen can supply a wide range of other work surface options encompassing natural wood, Corian, Stainless Steel, and glass. We can also use these materials in combination with other surface options for breakfast bars, feature islands etc.
Some of the most eye-pleasing designs use different materials in combination to produce beautiful, unique combinations that can become the centre piece of yor new kitchen design.